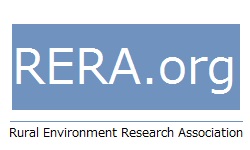 Rural Environment Research Association
- Dr. Jun Ui's Biography
- Hiroshi Kishi's Biography
History
Rural Environment Research Association ("RERA") is an NGO that it grapples with the environmental problem and it has been active in 1975. Jun Ui and Hiroshi Kishi have sponsored RERA. RERA have researched the following themes:
The automatic control theory of non-nitrogenous response by the microorganism

The examination of the low power, perfect mixed type, and water supply model

How to control it automatically against the change in the inflow load

In winter or low temperature, the maintenance technology of non-nitrogenous function.

How to save the energy which advanced treatment takes.

How to analyze a microorganism function by the measuring wave shape.

Dispersion treatment and wide area control system.

The materiality of the harmful bottom quality by the transition treatment and the improvement of the water quality.

The reduction of the recurrence quantity of nitrogen and phosphorus from the bottom quality.

Oxygen supply technology to the bottom layer by the improved bottom quality.

The way that dirt breeds a shellfish by the improved mud.
RERA has developed new sewage treatment technology "Hybrid Lagoon System" ("HLS") as a result of the above research.
HLS is the treatment technology which software by the way to dispose of a non-continuous-type microorganism ,was used for to make it control a " low power model, perfect mixed peace pattern, and water supply model" and a "non-nitrogenous response of the microorganism" automatically.
HLS has the following technical characteristics:
cheap and advanced treatment

non-nitrogenous treatment without medicine

saving energy

automatic control

the dilution-less treatment of the high concentration scrapping water

The concentration of the polluted water doesn't influence the effect of the purification by the high generality

Material improvement of the harmful bottom quality
Business Career
In 1975, I enforced treatment test by openair mining lagoon (2000 cubic meters) in Takizawa-Ham factory that there was in Tochigi prefecture, and confirmed nitorogen removal function by this treatement system.

1978; It was done about drainage from aircraft, and similar test identified about waste water treatment function that didn't dilute high level concentration nitrogen drainage. Designed treatment facility by L.L.S.B. activated sludge treatment method about Itami airport (Osaka) and Haneda airport (old; Tokyo) .

In 1979, I did test about denitrification of stock/pig rasing drainage (trust of Shiga prefectur, environment room), and designed high level treatment institution of large-scale stock raisingdrainage in the sequel.

In 1982, because approval form of Japan building center (the Minister of Construction authorization) was recognized about this treatment system, I designed hospital waste water treatment facility of 700 persons scale.

In 1985. design of agriculture village waste water treatment facility (pig: 4000, population: 1000) .

In 1989, design of fishery village waste water treatment facility of Hokkaido. Tokoro town.

In 1983. design of human waste handling facility of Kochi. Nangoku city.

In 1985, design of Seibu Sanitary Facility of Nagano (human waste).

In 1985, design of "Hedoro" disposal facility by stock raising waste water of Ishikawa.

In 1988, transition disposal test of Iwate Furukawa marush.

In 1989, investigation of quality of dam bottom mud in Taiwan, R.O.C. (trust of Taiwan, EPA) .

Planning of bottom mud disposal on Lake of Cheng-Ching Fu that there is in Kaoh-Siung city, Taiwan.

Planning of nitrogen removal of the water for water works of Feng-Shan Dam that there is in Kach-Siung city, Taiwan .

In 1989, design of bottom mud disposal facility of lobster nursery in Okinawa, Ishigaki Isinad.

In 1990, Bottom mud disposal test by dredging of mud that is thin in Akai gulf. Lake of Biwa, Nan-ko (Siga prefecture open call for participants.).

In 1991, lecture on "Restoration of lakes and Marshes, applying the treatment of bottom Sediments using Bio-reactor (Biotechnology)", The United States-Japan Experts Meeting on Management of Bottom Sediments Containg Toxic Substances, 15th meeting, San-Pedro, California, USA.

In 1994, design of bottom mud disposal facility of waterfowl park in Tottori, Yonago city.
Address
702-10-9-1 Yushima, Bunkyo-ku, Tokyo JAPAN 1130034